Who We Are
Franny Kinslow Brewer, Program Manager
Philadelphia, PA. I began my career in the financial industry, but always had an interest in the environment and natural resources. After working for a sea turtle conservation program in Greece, I wanted to pursue a career in conservation. I moved to Hawai'i and worked in non-profit, and eventually earned my degree in biology from UH-Hilo. As a student, I developed a love for the forests of the Big Island and a passion for protecting and caring for the unique natural landscapes here. After assisting on several ecological research projects with the Forest Service, I moved into education, teaching science full-time at Big Island public and charter schools while earning my master's degree. I still am very committed to the young people of our island and getting students out of the classroom and into the forest.
Kris Meehan, GIS Analyst/Operations Planner
Hendersonville, North Carolina. Growing up in the southern Appalachians gave me a love of the outdoors and showed me how invasive species can affect native landscapes. I am grateful to be able to combine my background in wildlife biology and GIS to help BIISC understand the trends and patterns in invasive species spread, to better target control efforts, and stay aware of emerging issues.
Judith Ferrera, Fiscal & Program Associate
Makati City, Philippines. I used to live in California before relocating to Hilo. I previously worked in research administration at the University of California. I moved to Hilo because of the warm climate, beaches, rainbows, and lush tropical setting. Natural resources are irreplaceable, and conservation is the only way to prevent exploitation, destruction, or neglect of our environment for us and for future generations to enjoy this wondrous place. I acknowledge all the efforts of the BIISC staff in restoring the land, and as the fiscal and program associate, I will play an active role in dutifully administering resources to support the program.
Jennifer Randall (Tamaariki), Field Supervisor
Honolulu, Hawai'i. Born in Honolulu and raised in Eastern Canada on Lake Ontario, I graduated from a college in Quebec with a degree in Natural Sciences: Applied Ecology. I have worked in the field of conservation biology on the Big Island for over 20 years with agencies such as the United States Geological Survey-Biological Resource Division (USGS-BRD) in Hawai'i Volcanoes National Park, Operation Miconia, DLNR – Natural Area Reserve Systems (NARS) working with our most invasive species and our most endangered. It is my belief that collectively we can make a difference when it comes to the environmental challenges faced by our native ecosystems here in Hawai'i and throughout our amazing planet's diverse ecosystems.
Dustin Swan, Forest Response Coordinator
Idaho. Raised in the forests of the Northwest, I grew up with an appreciation for the environment and biodiversity found in the world around us. Today, many of those forests are forever changed due to an invasive beetle killing entire stands of pine trees, and devastating wildfires fueled from the remaining dead timber. The threat of new invaders taking hold and destroying native forests and habitats is neverending. Working with BIISC in conservation allows me to lend a hand in the larger effort to keep invasive species from becoming established on Hawai'i Island, and combat those that have already reached these shores.
Molly Murphy, Invasive Plant Prevention Coordinator
Victor, NY. I had a strong desire to work in the natural environment from an early age. My passion began when my father and I planted hundreds of trees in our backyard for an Earth Day celebration. Watching the seedlings grow into a forest was satisfying. I understood then that a career in conservation would keep me happy. At BIISC, I work with the horticulture industry halting the sales of invasive plants. Managing the content for plantpono.org is another way I help prevent invasive species' cultivation. Prevention is best!
Jade Miyashiro, Invasive Arthropod Technician
Hilo, Hawai'i. My first experience in conservation was during the summer of my junior year in high school. Going through KUPU's Youth Conservation Corps really piqued my interest in this field. From there, I went on to pursue a degree in tropical horticulture from UHH. The biggest influence that directed my career path was working as a volunteer for Dr. Hara, the entomologist at CTAHR that specialized in pest treatments for tropical flowers and foliage. I went on to be a student help and then a temporary hire after I got my degree. While working at CTAHR, I was able to help different nurseries around the island with their pest problems ranging from ants, slugs, beetles, and even coqui frogs. Now at BIISC, I can take what I learned and use it to help the community rid itself of the little fire ant that's becoming a nuisance to everyone.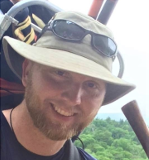 Nate Friday, ROD & Albizia Field Crew Leader
Hilo, Hawai'i. I was raised in Hilo and brought out to field sites at a young age. My involvement in Hawaiian conservation took off with working in the HYCC (with Jade!) and various KUPU internships with the Forest Service and UH while at Hilo High and on through my time at Dartmouth College, where I got a B.A. majoring in ecological biology. I have worked in tropical ecology from Costa Rica to New Zealand, but love that fieldwork in Hawai'i has neither venomous vipers nor ferocious possums. Preserving Hawai'i is important to me because I have had the opportunity to visit so many of its pristine natural areas that are now threatened, and have seen the changes in the landscape by both invasive species and by reforestation efforts. Traveling the world has reinforced for me just how unique and special Hawai'i's ecosystems are.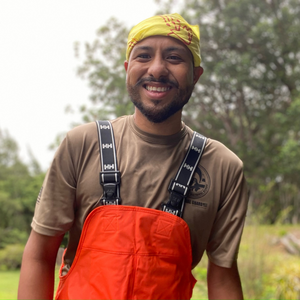 Kai'anui Andaya, Invasive Species Field Crew Leader
Wai'anae, O'ahu. I currently live in 'Ōla'a, Puna. Growing up in Hawai'i and being immersed in Hawaiian culture, there was no separation between people and the environment. My time at Hawai'i Community College and UH Hilo has inspired me to pursue a career in conservation. My favorite part about working in conservation is learning from the environment. The way the flora & fauna of Hawai'i communicate and interact with one another in the forest is truly inspiring. Hawai'i's ecology informs me on how to carry myself within different spaces. My passion for conservation stems from my Hawaiian heritage and is further strengthened by my hula rearing.
Charlie Tommy, Invasive Species Field Associate II
Chuuk, Micronesia. I always loved working and being outdoors. I graduated from the University of Hawai'i at Hilo with my Bachelor's in Environmental Studies. Currently residing in lovely Hilo town for 6 years now. Hawai'i has taught me a lot and given me so much. I want to give back to the land and its people, and what better way to do that than being out in the field, interacting with the community and preserving Hawai'i's pristine ecosystem.
Josefina Pacheco, Invasive Species Field Associate II
San Francisco, CA. Growing up in the Bay Area, my dad would take my brothers and I camping and fishing frequently. These early experiences helped to grow my love of the outdoors and encouraged me to pursue a career in conservation. I received my undergraduate degree from Saint Mary's College of California in Environmental Science and moved to the Big Island in 2020. I was a member of the KUPU CLDP program at BIISC and really enjoyed my time with the team. When the opportunity to join full-time came up, I jumped at the chance. I am proud to be helping to conserve Hawaii island's variety of ecosystems and unique, native species that make it such a special place.
Austin Menke, Invasive Species Field Associate I
Hartford, Wisconsin. Raised in Hakalau. I graduated with my Tropical Ecosystem & Agroforestry Management (Team) AS degree in 2019. I always loved immersing myself in outdoor activities.
It is a special gift to work in Hawaii's native forests. The brisk breeze running through the air, and the abundance of life surrounding trickling streams creates a peace of serenity. I can not imagine a day where our forest disappears. I am always interested in learning new ways to help protect the forest and reciprocate my knowledge to help others.
Sibley Barnette, Outreach and Education Student Assistant
Fairhope, AL. Born and raised on the Gulf Coast, I grew up with a strong connection to the environment. After working at a summer camp on Mobile Bay, I knew I wanted to work in human dimensions of natural resource conservation. I graduated from Auburn University with a B.S. in Natural Resource Management with a focus in Nature-Based Recreation and Ecotourism. After I completed my degree, I worked on a community-based ecotourism project for the Mali Tribe in Fiji through Bridge the Gap: Vorovoro Island. This experience led me to pursue my M.S. in Tropical Conservation Biology and Environmental Science at UH-Hilo, where I will be returning to Fiji for my master's project. Working for BIISC's outreach and education team has been a great way for me to learn about and be immersed in community-based conservation efforts on the Big Island.
Darcy Yogi, Invasive Plant Prevention Technician
Kailua, Oʻahu. From the snow-capped puʻu of Maunakea to the still waters of Kawainui Marsh, I've had the privilege of working across dynamic Hawaiian landscapes alongside passionate stewards. My interest in invasive species management has only grown through my ecological education both at UH Hilo (BS) and Mānoa (MS). I continued broadening my knowledge regionally through my work with the Pacific Islands Climate
Adaptation Science Center and bio-culturally through my experiences with Hālau ʻŌhiʻa. Today, I live in Waiākea Uka and my daily conservation inspirations are the native plants that continue to grow, the native birds that still soar, the native insects that still appear to the keen eye, and the people who continue to aloha our special places.