Who We Are
Springer Kaye, Manager

Honomū, Hawaiʻi. Invasive species directly threaten our environment, economy, and way of life. Working together, Big Island communities can stop the spread of invasive species, take direct action in our neighborhoods and businesses, and advocate for sound decision-making from our political leaders. I love working every day in service to my community.
Judith Ferrera, Fiscal & Program Associate
Makati City, Philippines. I used to live in California before relocating to Hilo. I previously worked in research administration at the University of California. I moved to Hilo because of the warm climate, beaches, rainbows, and lush tropical setting. Natural resources are irreplaceable and conservation is the only way to prevent exploitation, destruction, or neglect of our environment for us and for future generations to enjoy this wondrous place. I acknowledge all the efforts of the BIISC staff in restoring the land and as the fiscal and program associate, I will play an active role in dutifully administering resources to support the program.
Kris Meehan, GIS Analyst/Operations Planner
Hendersonville, North Carolina. Growing up in the southern Appalachians gave me a love of the outdoors and showed me how invasive species can affect native landscapes. I am grateful to be able to combine my background in wildlife biology and GIS to help BIISC understand the trends and patterns in invasive species spread, to better target control efforts, and stay aware of emerging issues.
Franny Kinslow Brewer, Communications Director
Philadelphia, PA. I began my career in the financial industry, but always had an interest in the environment and natural resources. After working for a sea turtle conservation program in Greece, I wanted to pursue a career in conservation. I moved to Hawai'i and worked in non-profit, and eventually earned my degree in biology from UH-Hilo. As a student, I developed a love for the forests of the Big Island and a passion for protecting and caring for the unique natural landscapes here. After assisting on several ecological research projects with the Forest Service, I moved into education, teaching science full time at Big Island public and charter schools while earning my master's degree. I still am very committed to the young people of our island and getting students out of the classroom and into the forest.
Jennifer Randall (Tamaariki), Field Supervisor
Honolulu, Hawaiʻi. Born in Honolulu and raised in Eastern Canada on Lake Ontario, I graduated from a college in Quebec with a degree in Natural Sciences: Applied Ecology. I have worked in the field of conservation biology on the Big Island for over 20 years with agencies such as the United States Geological Survey-Biological Resource Division (USGS-BRD) in Hawaiʻi Volcanoes National Park, Operation Miconia, DLNR – Natural Area Reserve Systems (NARS) working with our most invasive species and our most endangered. It is my belief that collectively we can make a difference when it comes to the environmental challenges faced by our native ecosystems here in Hawaiʻi and throughout our amazing planet's diverse ecosystems.
Dustin Swan, Forest Response Coordinator
Idaho. Raised in the forests of the Northwest, I grew up with an appreciation for the environment and biodiversity found in the world around us. Today, many of those forests are forever changed due to an invasive beetle killing entire stands of pine trees, and devastating wildfires fueled from the remaining dead timber. The threat of new invaders taking hold and destroying native forests and habitats is neverending. Working with BIISC in conservation allows me to lend a hand in the larger effort to keep invasive species from becoming established on Hawaiʻi Island, and combat those that have already reached these shores.
Jimmy Parker, Early Detection Program Coordinator
Greenville, South Carolina. I am passionate about botany and learning about plant behavior once they are introduced to Hawaiʻi. Surveying the roads and nurseries of the Big Island is both fun and challenging because there are always new plants coming in from all over the world.
Molly Murphy, Invasive Plant Programs Technician
Victor, NY. From an early age, I had a strong desire to work in the natural environment. My passion began when my father and I planted hundreds of trees in our back yard at the age of 13. Watching the seedlings grow into a forest was satisfying. I understood then that a career in conservation would keep me happy. I enjoy making a difference in Early Detection and being on the front lines keeping new invasive species from establishing in Hawaiʻi.
Jade Miyashiro, Invasive Arthropod Technician
Hilo, Hawaiʻi. My first experience in conservation was during the summer of my junior year in high school. Going through KUPU's Youth Conservation Corps really piqued my interest in this field. From there, I went to pursue a degree in tropical horticulture from UHH. The biggest influence that directed my career path was working as a volunteer for Dr. Hara the entomologist at CTAHR that specialized in pest treatments for tropical flowers and foliage. I went on to be a student help and then a temporary hire after I got my degree. While working at CTAHR I was able to help different nurseries around the island with their pest problems ranging from ants, slugs, beetles, and even coqui frogs. Now at BIISC, I can take what I learned and use it to help the community rid itself of the little fire ant that's becoming a nuisance to everyone.
Kawehi Lopez, Community Engagement Liaison
Waiākea, Hawaiʻi. I was inspired to pursue a career in conservation after participating in Kupu's Hawaiʻi Youth Conservation Corps summer program in high school. After receiving my BA in Environmental Studies from UH-Hilo, I worked with BIISC as an outreach intern for the PIPES program and Kupu's Conservation Leader Development Program. In 2019, I made the decision to go back to school for an M.S. in Tropical Conservation Biology and Environmental Science at UH-Hilo. Now that I've finished my graduate degree, I look forward to applying what I've learned to help our community in the fight against invasive species.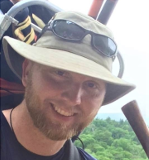 Nate Friday, Invasive Species Field Associate I
Hilo, Hawaiʻi. I was raised in Hilo and brought out to field sites at a young age. My involvement in Hawaiian conservation took off with working in the HYCC (with Jade!) and various KUPU internships with the Forest Service and UH while at Hilo High and on through my time at Dartmouth College, where I got a B.A. majoring in ecological biology. I have worked in tropical ecology from Costa Rica to New Zealand, but love that fieldwork in Hawai'i has neither venomous vipers nor ferocious possums. Preserving Hawai'i is important to me because I have had the opportunity to visit so many of its pristine natural areas that are now threatened, and have seen the changes on the landscape by both invasive species and by reforestation efforts. Traveling the world has reinforced for me just how unique and special Hawai'i's ecosystems are.
Charlie Tommy, Invasive Species Field Associate I
Chuuk, Micronesia. I always loved working and being outdoors. I graduated from the University of Hawaiʻi at Hilo with my Bachelor's in Environmental Studies. Currently residing in lovely Hilo town for 6 years now. Hawaiʻi has taught me a lot and given me so much. I want to give back to the land and its people and what better way to do that than being out in the field interacting with the community and preserving Hawaiʻi's pristine ecosystem.
Murphy Bierman, Invasive Species Field Associate II
Hilo, Hawaiʻi. I grew up on the Big Island but know little about it. I aim to learn more about our ecological world and to understand what it means to protect native species. I work to build a healthier relationship with the island than I have today.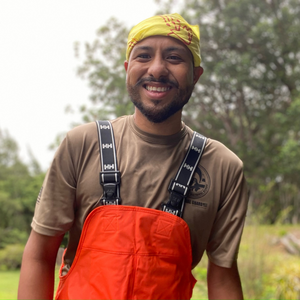 Kaiʻanui Andaya, Invasive Species Field Associate I
Waiʻanae, Oʻahu. I currently live in ʻŌlaʻa, Puna. Growing up in Hawaiʻi and being immersed in Hawaiian culture, there was no separation between people and the environment. My time at Hawaiʻi Community College and UH Hilo has inspired me to pursue a career in conservation. My favorite part about working in conservation is learning from the environment. The way the flora & fauna of Hawaiʻi communicate and interact with one another in the forest is truly inspiring. Hawaiʻi's ecology informs me on how to carry myself within different spaces. My passion for conservation stems from my Hawaiian heritage and is further strengthened by my hula rearing.