A "winner" has been declared: Rapid Ohi'a Death was chosen by our residents as the worst invasive species on Hawai'i Island. Thanks to all who participated and shared their views on the worst of the worst!
The Big Island has a large number of invasive species, but which is the worst? February is Hawaii Invasive Species Awareness month, and BIISC is participating by raising awareness about the many invasives that plague Hawaii and the harm they cause to our environment, our economy, and/or our health and way of life. Check out the full schedule of HISAM events this month.
So this month, to bring more attention to this issue, we want to hear from you: which is the worst invasive species on the Big Island? We've put together brackets of some of contenders in four categories: vertebrates, invertebrates, plants, pathogens.  We hope you will learn a bit more about the impacts these invasive species have on our island throughout the month. Visit our Facebook  page or Instagram story every week to cast your votes and see who moves up to the next bracket!
The Contenders
Vertebrates
Rats
Like all of our vertebrate contenders, rats have been designated one of the 100 World's Worst invasive species by the International Union for the Conservation of Nature. They multiply quickly, spread diseases, attack native wildlife, and are notoriously difficult to get rid of. Rats cause headaches and heartaches for conservationists, farmers, public health practitioners – and just about every human on the planet who has tried to grow or store food. As one of the first introduced species to Hawaii to become invasive, rats continue to plague our islands in many ways. More info…
Feral Pigs
In Hawaii and across the globe, feral pigs are infamous for their destructive behaviors. They root up plants and trees, destroying native ecosystems and overturning the work of farmers and foresters. Their digging and wallowing lead to puddles which provide breeding grounds for mosquitoes, which spread disease deadly to our native birds (see below). With no natural predators, the population is continuing to climb on our island, causing problems for residents of the human, plant, and bird kinds alike.
Coqui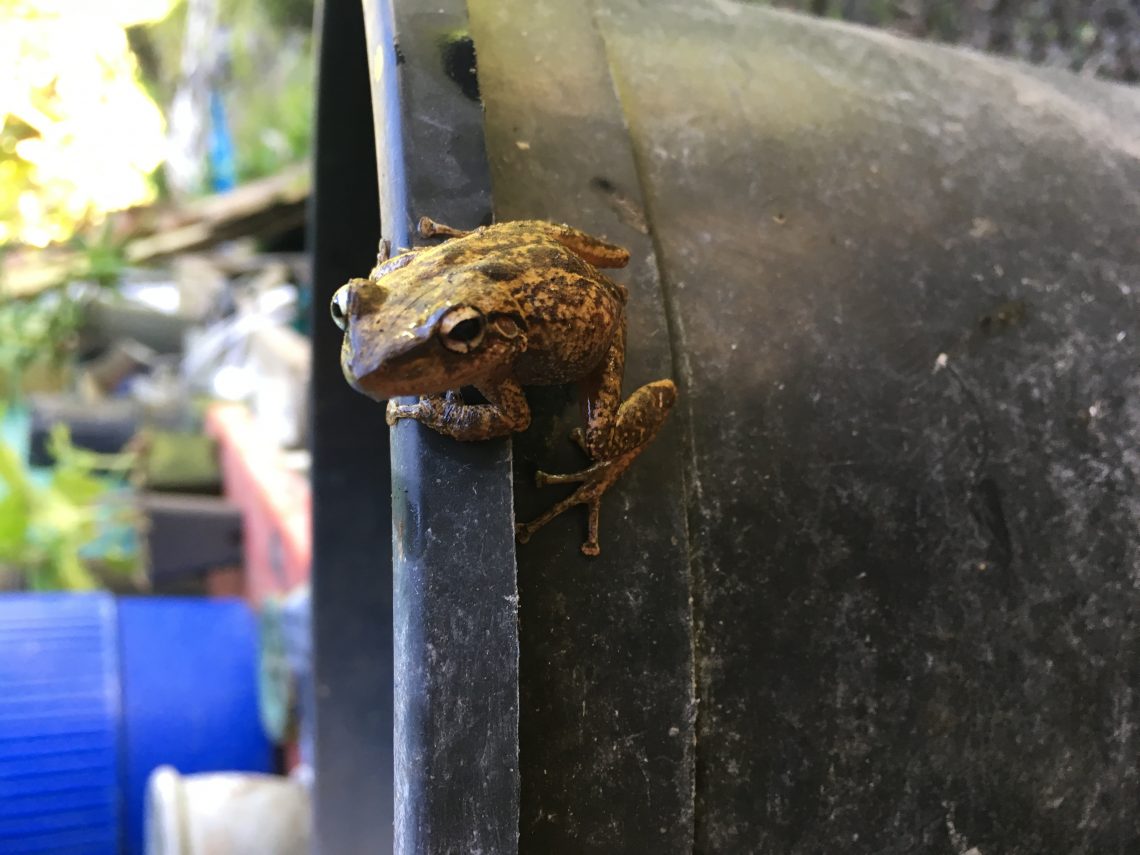 Coqui frogs are known for their extremely loud mating calls that can reach 100 decibels (louder than power tools), and since their arrival on an imported nursery plant in the 1990's, the night soundscape of our island will never be the same.  With no natural predators in Hawaii, populations here can reach approximately 2,000 frogs per acre, much higher than in their native range of Puerto Rico. And all those frogs have to eat, impacting insect species and out competing native insectivores. More info…
Feral Cats
While cats are a beloved part of many homes, when let loose into a natural environment, they are formidable predators with voracious appetites. World wide, they are known to decimate bird populations and in the Hawaiian islands have been actively observed killing native birds, from endangered honeycreepers in high elevation forests to nesting migratory seabirds. They are carriers of the toxoplasmosis parasite, which has been linked to death in multiple endangered Hawaiian monk seal.  More info…
Invertebrates
Little Fire Ants
Native to the jungles of South America and introduced by way of palm trees imported from Florida in the 1990s, little fire ants (Wasmannia auropunctata) are notorious for their painful sting. They fall on unexpecting people and animals that disturb the tree that they're barely clinging to, and disrupt farming by stinging workers and facilitating the increase of plant pests like aphids and mealy bugs. To make things even worse, they can number in the millions. With these vast numbers, they can easily push out other species in insects, including beneficials and natives. More info…
Two Lined Spittle Bug
First found on the Big Island in 2016 and likely introduced accidentally in live plants, this tiny bug is a huge threat to our ranching industry as well as our food security. TLSB (Prosapia bicincta) has already destroyed 175,000 acres of kikuyu and pangola, grasses that support 70% of the cattle industry in Hawaii. When these grasses die, they are replaced not by native species, but by much harder to control invasive weeds like blackberry and pamakani, which can also increase propagule pressure on neighboring native forests.  More info…
Mosquito
Mosquitos (multiple species) are a vector of many human pathogens such as dengue fever, malaria, yellow fever, west nile virus, and more. They breed quickly as long as there is a little bit of standing water. Besides being a pest and a danger to humans, these insects are also the reason many of Hawaii's native birds are now extinct. More info…
Queensland Longhorn Beetle
The Queensland longhorn beetle (Acalolepta aesthetica) is a recent introduction to the Big Island that is causing big problem for farmers in the Puna and South Hilo areas. The grubs live within the tree creating galleries eating away at the inside of the tree. Not much is known about this beetle and its host list is still growing: cacao, ulu, avocado, citrus, kukui are among some of its favorite targets, along with many others. As it is not known to be a pest anywhere else in the world, very little is known about it and there are no treatments for control. More info…
Plants
Albizia (Falcataria moluccana)
Introduced in 1917 to 'fix' the watershed, albizia quickly became a dangerous invasive species. At 10 feet growth a year, It is the fastest-growing tree on the planet, but only in Hawaii. Albizia grown in Florida or California, or Australia will not reach the heights we experience on the islands. The giant trees produce brittle branches that easily break, directly threatening homes, cars, roadways, and the power grid. The Department of Transportation estimates that 90% of all received calls about fallen trees are for albizia. The windblown albizia are constantly creeping into our properties, sometimes from nearby lots with absentee owners. More info…
Fountain Grass (Pennisetum setaceum)
Fountain grass was introduced sometime before 1914 as a horticultural plant. Now it threatens the rarest forest type on Earth, the tropical dry forest. A seed packet from the 1900's boasts, 'Once established, this ornamental grass is maintenance-free.' Fountain grass is an aggressive invader forming monotypic stands in the state's driest parts, where it poses a significant fire hazard for natural and developed areas. Burning facilitates fountain grass seed germination, and the grass recovers much faster than other species after fires, creating a vicious cycle. North Kona is forever changed due to the drought-tolerant fountain grass. Mountainsides that once were covered in a diverse array of dry forest species, especially prominent was the yellow-colored hala pepe (Chrysodracon hawaiiensis) flowers, are now replaced with pure fountain grass stands. Bare lava flows are quickly colonized and dominated by fountain grass, leaving no room for native dryland species. More info…
Christmasberry (Schinus terebinthifolius) 
Introduced to Hawaii in 1911 as an ornamental tree, Christmasberry invades and dominates the island's mesic and dry parts. Not only is it drought-tolerant, but Christmasberry also can withstand flooding conditions for up to 6 months. Birds, attracted to the bright red fruit, readily eat and disperse the copious amounts of seeds Christmasberry produces. With a densely shaded understory and allelopathic properties, monotypic stands are typical. Christmasberry is directly responsible for the low survival rates of several threatened native species. Christmasberry is a common pasture invader, degrading the quality and nutrition of grazing animals. Unripe fruits are fatal to horses, and cattle avoid the foliage.  The trunk exudes a sap that causes severe itching on bare skin, sometimes causing lesions that resemble 2nd-degree burns.  If inhaled, the chainsaw dust irritates the lungs. The flowers cause severe sneezing and allergic reactions to some. More info…
Koster's Curse/Clidemia (Clidemia hirta)
It was first observed in Oahu growing in 1941; by 1949 is was spreading aggressively. Through muddy shoes, unwashed tools, or contaminated vehicles, people likely accidentally introduced Clidemia to the Big Island. Birds, pigs, and mongoose consume and distribute the seeds. Clidemia invades both disturbed areas and intact forests. Its invasive characteristics are astounding. It reaches reproductive maturity in 6 months, grows back vigorously after cutting, and has seeds can remain dormant for four years in the soil and are still viable. Its seed production is perhaps the most alarming. An average of 10,000,000 seeds can be found in a 1 square meter area of a clidemia thicket. Laid end to end, the tiny seeds would make a line 3.5 miles long. At peak fruiting season, clidemia produces 5,000 seeds per day. More info…
Pathogens and Disease
Rat Lung Worm
Slugs have always been an annoying garden pest. But with the introduction of the semi-slug in the late 90s, Hawaii Island experienced a rise in severe cases of Angiostrongyliasis, known as rat lungworm disease. The nematode worm that causes RLWD completes its life cycle by moving between slugs/snails and rats. But when other mammals like dogs, horses, or humans accidentally ingest an infected slug, the impacts on the body can be terrible, ranging from headaches and skin sensitivity to paralysis and even death in extreme cases. More info…
Rapid Ohia Death
Rapid 'ohi'a death (ROD) is caused by two strains of the Ceratocystis fungi that block the cambium layer of the tree and stop the flow of water and nutrients. This blockage causes the tree to brown and die, and once the fungus has entered the tree, there is no cure. The spores of the fungus are spread by wind and by ambrosia beetles, tiny wood boring insects. 'Ohi'a trees are a keystone species of native forests that are key for maintaining healthy watersheds, as well as an important plant in Hawaiian culture and key habitat for many native species of birds, insects, and plants.  The loss of ohi'a would be devastating to our islands. More info…
Coffee Rust 
Coffee is one of the major agricultural crops on the Big Island. This single plant generates over a million dollars every year. But in 2020, yet another threat to this beloved crop arrived in Hawaii. Coffee rust is a fungus that makes yellow-orange powdery spots on the leaves, reducing the rate of photosynthesis and the plants' resources, therefore stunting growth and reducing berry production. This threat comes after growers have already spent the last decade fighting the coffee berry borer (CBB), a small beetle that burrows into the cherry, ruining the taste and quality of the coffee. Between these two pests coffee growers are struggling with poor yields and higher cost of production. More info on CLR… More about CBB here…
Avian Malaria/Avian Pox
Avian malaria and avian pox are two deadly diseases which have decimated Hawaii's forest bird populations. Hawaii's native birds evolved in isolation in their Pacific paradise, unexposed to these diseases and thus never developing resistance.  With the introduction of mosquitoes and non-native birds, these pathogens spread into our forests, and with the additional pressures of feral cats and rats, loss of habitat, and competition with non-native birds, many of Hawaii's bird species were driven to extinction.  Of the 52 original native honeycreeper species, only 18 remain, and 6 are considered Critically Endangered.  Native birds must now live almost exclusively at high elevations above mosquito breeding areas, but as climate change increase temperatures that line is getting higher and the habitat smaller. More info…
Invasive Species Management
An invasive species is an organism that was introduced to a new area through human action (either accidentally or intentionally) AND also causes harm to the environment, economy, or human health in that area (as defined by federal law). Hawaii has half of the 100 worst invasive species in the world as identified by the IUCN, plus a whole lot more that are a particular problem for our tropical islands.  Many invasive species in Hawaii are so widespread that eradication is not possible, and they must be managed to mitigate damage as much as possible.  Others are new to the islands, and there is potential to eradicate (completely remove) them if we are able to get enough funding and resources. Some are widespread in certain areas but not others, so they may be contained with effort.  To learn more about how Hawaii is approaching the management of various invasives and working to prevent the introduction of new ones, visit the Hawaii Invasive Species Council.