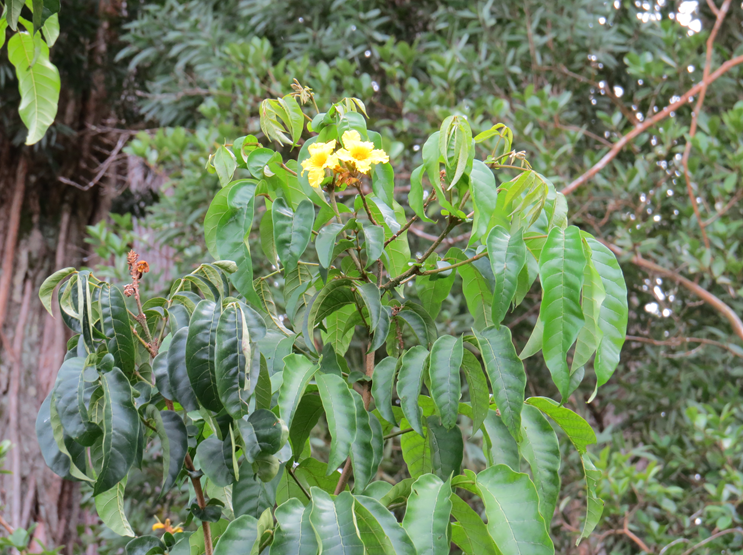 Nile Tulip
REPORT IF SEEN: Contact BIISC to schedule a free removal
Native to tropical Africa, Nile tulip (Markhamia lutea) is an incipient invasive plant in Hawaii. According to the Bishop Museum cultivated checklist, it has been present in arboretums in Hawaii since 1958. Many juveniles and saplings were found in the vicinity of a mature tree at the Hilo arboretum. They have all been removed.
Impacts:
Fast-growing tree with the ability to spread into disturbed forests
Produces viable wind-dispersed seeds within two years
Roots compete for nutrients with agroforestry crops
Coppices readily after cutting
Forms dense shade prevent regeneration of more desirable species
Description:
Evergreen tree with an irregular crown up to 45′ tall
The bark is reddish-brown and finely cracked
Yellow trumpet-shaped flowers with orange-reddish stripes in the throat
Compound, pinnate leaves with 7-11 leaflets that can grow up to 4″ and are wider at the tip.
Mature fruit is brownish long thin capsules about 15″-30″ in length, arranged in spiral clusters.
Nile Tulip (Markhamia lutea)
Photos (L-R): Vengolis – CC, JM Garg – CC, Vinayaraj – CC
BIISC's Control Efforts
Nile tulip has been a BIISC eradication target since 2016. In Hilo, cultivated plants and the saplings growing nearby have all been removed. In addition, a cultivated tree in Waimea was removed and replaced with an ohia tree. Eradication efforts are ongoing for the largest population in South Kona. Buffer surveys are needed to understand the extent of the population.